Inspirational Fiesta: the day in pictures
a great time was had by all...
Our Inspirational Fiesta in pictures, and a few words...Every year a select committee of staff from across our agency start meeting in the Springtime to plan our Fiesta...and every year it gets better and better!
Here are some scenes from this year
As people got off the elevator, a welcoming committee applauded wildly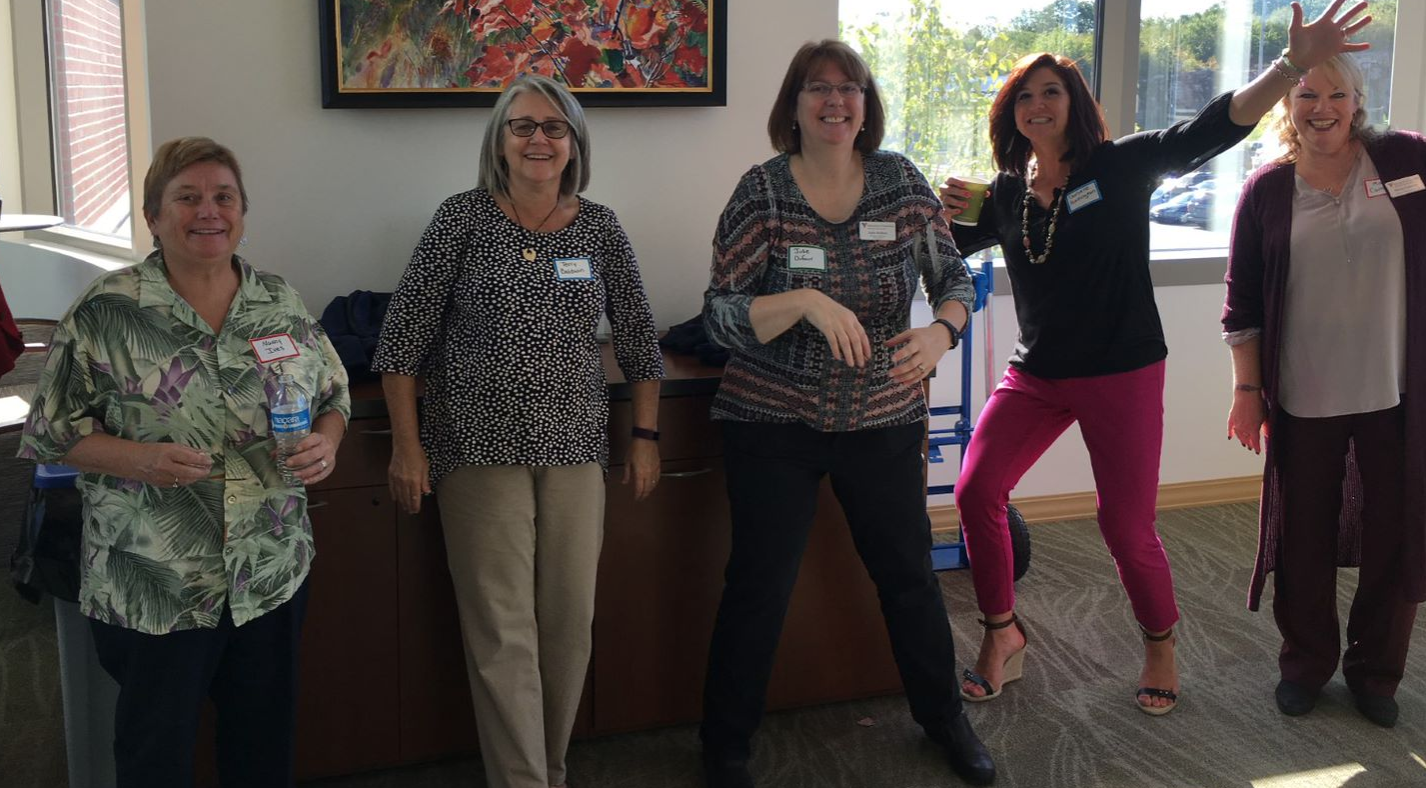 Welcomers Nancy Ives, Terry Baldwin, Julie Dufour, Danielle Huntington, and Maria Cameron
Dawn Mills is in the house
Maria Cameron and Tatiana Bickford

Organizer Lauren Danie-Briggs and volunteer Patty Olds handed out nametags

Mike Merrill and Brian Sites
Jatrice Martel Gaiter from our National office gave us great inspiration with her encouraging words.

Our Board of Directors Chairperson Gail Evans spoke from her heart about her love of our agency and our staff and programs.

President/CEO June Koegel spoke eloquently of Family, Love and Faith in our work and mission, and praised the staff for big hearts, loyalty, dedication to clients and generous love.

to the Senator Inn for Lunch and awards
some of our amazing Facilities and Maintenance Team. Korey Staires waving.

Patti Ellsworth, Madeline Groeger, Susan Kennedy, Shari Olds
Erica Miller and Ron Gastia
Sheryl Moore and Kim Powers
Christine Magee and Matt Dubois
Erica Miller and Jessie Lilly

Matt putting in the secret formula for perfect lighting and shades to darken the room.
John Fitzgerald practicing self-hypnosis...actual hypnosis images further down the page...


Awards Presented at the Fiesta
2017 Maud and Ballington Booth Award
This award recognizes someone who consistently demonstrates our agency's values: faith, integrity, innovation, collaboration and passionate, engaged talent. Their work, loyalty and dedication exemplify our mission and inspire others.
Erica Miller, Executive Assistant, Administrative Office, Brunswick, ME
Brian Bouthot, Case Manager, Veterans Services, Biddeford & Saco, ME
Below: Erica and Brian, Jessie Lilly photobombing


2017 Building Bridges Award
They say the whole is greater than the sum of its parts. With this award, we look to celebrate individual employees who have reached outside of their own programs to form teams OR teams within programs that worked on a project together.
Sawyer Street Residence
Faith Dhliwayo, Erica Ferrelli, Michael Heiko, Karen Higgins, Christine Hopkins, Michele Huntley, Yolanda Mitchell, Emily Mugisha, Sami Mulkern, Compagnie Niryumwami, Andrew Shaffer, Denise Tilly, Dawn Withee, Marleigh Souza, and Teresa Roberson
Celebrating Anniversaries
5-YEAR ANNIVERSARY (Sapphire)
Elaine Bourne-Program Manager Community Mediation- January 2017
Erica Miller- Executive Assistant to the COO- January 2017
John Fitzgerald- Case Manager at MCRRC- April 2017
Jody Ryan- Resident Service Coordinator at Bayview & Peaks Island- June 2017
Sami Mulkern- Residential Counselor at Sawyer Street- July 2017
10-YEAR ANNIVERSARY (Ruby)
Scott McKeough- Residential Counselor at IRT South- December 2016
Don Cray- Assistant Program Manager at IRT South- July 2017
Mike Merrill- Program Manager VA- August 2017
15-YEAR ANNIVERSARY (Emerald)
Julie Staires- Facilities Director- August 2016 (Not attending)
Nancy Ives- VP of Program Operations- April 2017
Marleigh Souza- Assistant Program Manager at Sawyer Street- April 2017
Travis Drake- Director of Senior Services- July 2017
20-YEAR ANNIVERSARY (Diamond)
Mary O'Leary- Case Manager at NMRRC, Program Manager with Batterers' Intervention Program- November 2016
From Tatiana: Special thank you goes to all those who submitted a nomination – your stories, thoughtfulness, recognition and appreciation of your coworkers are truly inspiring and make a big difference!
And then we had Stage Hypnotist Gail Ann Marie bring us all kinds of entertainment with the brave souls who volunteered to be hypnotized.

they listened for her instructions

Jody Ryan rocking out on the air guitar. Mike Merrill playing the air drums.

Lauren Danie Briggs as a dancing sloth
...the group acting like bratty school kids.
It was a day to remember, except for the folks who were hypnotized, they didn't remember a thing. Amazing!