Admin Office Day of Caring
giving love to the Friendship Hill House!
Every year, folks who work in the Brunswick office offer themselves up to one of the programs to do landscaping, housecleaning, painting, repairs... you name it.
They get much done, and return to the office the next day all smiles and achey muscles, with stories of many hours happily spent in service to the chosen program...this year was no exception!
Friendship Hill House, home of IRT South, was the beneficiary of Admin Office love (and sweat!) last week. Friendship Hill House is a big, rambling building in Biddeford with apartments, office space, and lots of grounds to maintain.
Here is the chain of emails that came in the days that followed last week's Admin Office Day of Caring, punctuated by Erica Miller's fabulous images.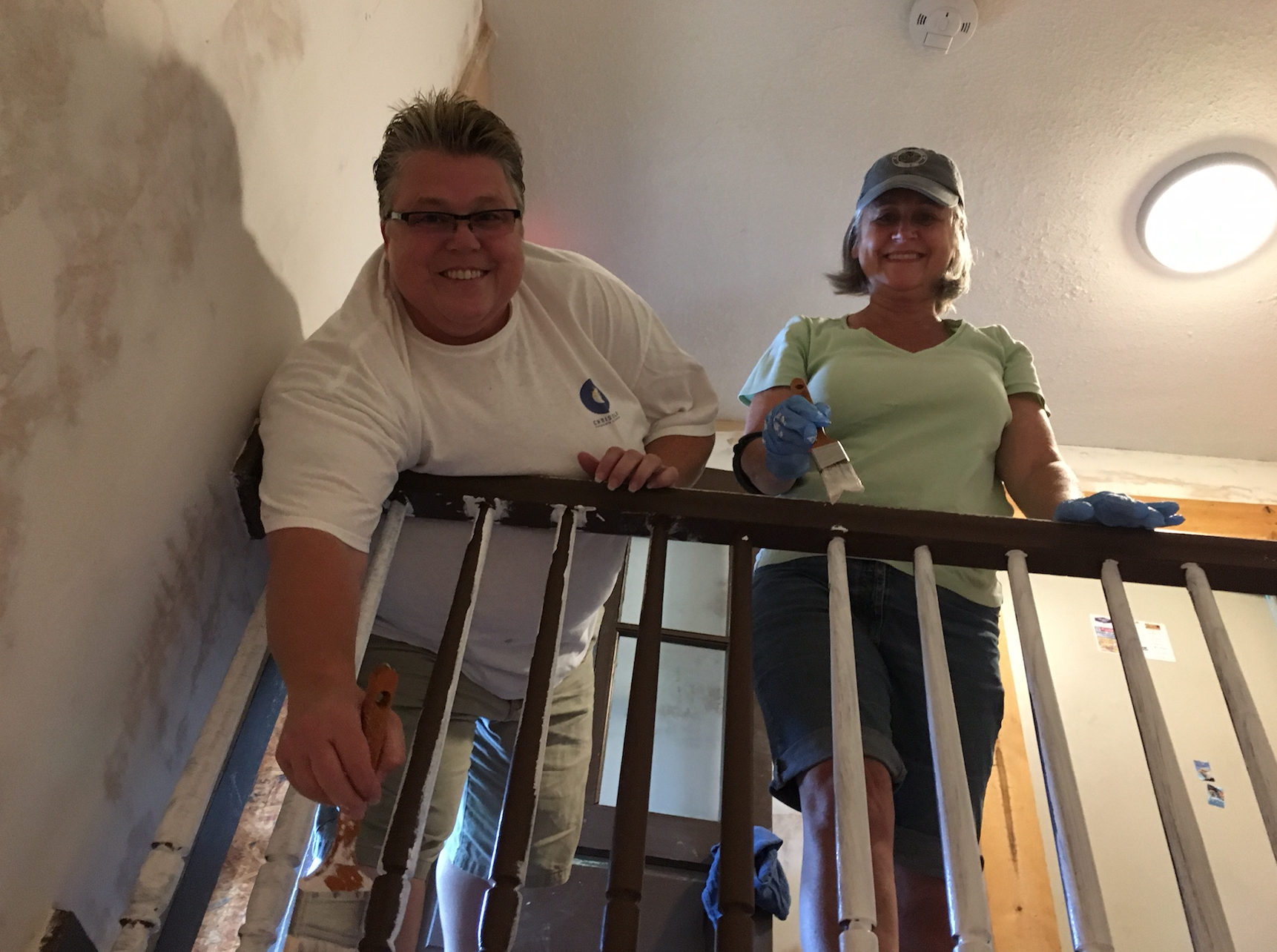 From Erica Miller, Executive Assistant to the COO:
We survived our IRT South Day of Caring! Go Team.
Thank you to Steven McDermott and the IRT South staff and clients for having us!
I didn't do the best job documenting it. For example, the big hosta "after" picture is missing the yellow mums and mulch that was added! I failed at getting any pictures of Nancy, the flower patch rocks or of David, who was also there, caring and making a difference. Sorry about that! (The painting isn't finished but what an amazing start!!)
Thank you to Mark who made sure we had the supplies and tools ready and waiting for us and of course, big thanks to everyone who was able to make it and worked it!
Until the next one...
From Bill Browning, Grants and Community Engagement Manager:

Awesome before and after photos.
Who would have thought those rails, banister, etc. could look so nice?
How great for the residents (and staff) to have such beautification to their home, with the painting and the gardening.
Thanks for doing this.
From June Koegel, President/CEO:

Love it...it looks beautiful and made my day to see how much everyone cares!!! Thank you so much!
From Steven McDermott, Program Manager at IRT South:
Hello All -
I just wanted to take a moment to thank you all for putting aside everything that is on your plates and coming down to brighten up Friendship Hill House. It means a lot to all of us, the staff and employees.
We are also keenly aware that the major push yesterday, was the result of long work and planning by the maintenance team. Not only prepping the interior stairwell, but coordinating contractors coming in and keeping up with the day to day needs of the program.
I am grateful for the work done by Bill, Travis and Brian to help find and secure resources to enhance the building and services provided to our clients and tenants.
Thank you from all of us at Friendship Hill House.
From Nancy Ives, VP of Operations:
Big shout out to Erica for organizing the Day of Caring. You did a fabulous job!

-Nancy
Some people decided their clothes needed painting too! There truly are no limits to Caring with this bunch.