Navigation Services Help Seniors Chart a Course
"Year by year, growing older in Northern New England is getting more complicated and overwhelming," says JoAnne Webber, Program Coordinator for Volunteers of America's Options at Home program. "That's why we launched our new Navigation Services."

Volunteers of America's Navigation Services are part of the Options at Home program and are designed to help seniors and their families identify needs, develop plans, and coordinate services as they navigate the complex terrain of today's eldercare resources.

Recently, JoAnne helped 92-year-old Joe Piergrossi transition to a new home from Bayview Heights, one of 10 affordable senior housing communities in Northern New England run by Volunteers of America. "Joe had been living at our Bayview Heights residence for about eight years," JoAnne says. "He was well known and well liked. He had a regular morning breakfast 'gang,' and we'd already been supplying him with various in-home support services to help him maintain his independence as long as possible. But he was reaching a point where he knew he was going to need more help than we could offer at the residence. So it was time for us to try to help make his transition a little smoother."

Making the next step a smooth transition
Joe's son — Joe Piergrossi, Jr. — chimes in: "My dad needed a wheelchair and, in general, a higher level of care. It was really bothering him that he couldn't do things on his own anymore. But one of the issues that seniors and their families face at times like these is how to chart a course finding the right care and services — at the right cost. It can feel complex and overwhelming. I met with JoAnne and her team several times to make sure they were a good fit for us — and ultimately they were a real help." Joe moved to Maine in 1974 after college and a youth spent in Connecticut. He invited his parents to join him in the area in 2001, shortly after September 11.
"Northern New England has more seniors per capita than anywhere else in the country," says JoAnn Webber
"Which means that for the first time in history truly remarkable numbers of people (and their families) are going to have to find their way through the maze of options — in-home care, nursing homes, dementia facilities, assisted living, medical care, nonmedical assistance, and more. And the need is only going to grow more acute in the years to come."

An advocate in the complex web of services
Joe, Jr., says, "Joanne and her team arranged for us to tour some of the local nursing homes, and we agreed they weren't the right place for my dad. He was too active and alert for it. So we looked at other kinds of places. Meanwhile, we had also been having a real issue trying to get answers from the VA. My dad was applying for VA benefits for the first time in his life — he's a World War II veteran with a Purple Heart — and that was a real process." JoAnne made phone calls, went with the family to the VA in Portland, met with a doctor and social worker, helped advocate on Joe's behalf, took notes for good recordkeeping, visited facilities, and linked him with a resource specialist to be able to apply for benefits — until he finally received them.

Joe, Jr., explains that JoAnne and her team helped him find out what his dad's options. "They made us feel like we had an advocate on our side," he says. "As my dad says, 'How can they expect older people to fill out all that paperwork they give you at a doctor's office?' Volunteers of America has a menu of services, everything from getting his new apartment cleaned regularly to offering companionship and help in getting around. These services cost money, of course. But it seemed very reasonable to me — and it wasn't a lot to spend for the kindness, knowledge, and expertise we received."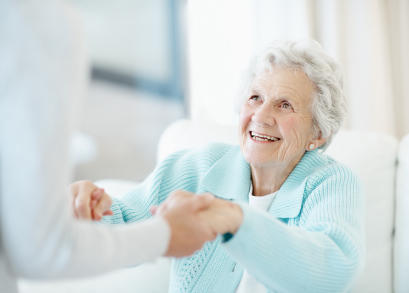 A friendly face among a sea of red tape
JoAnne adds that the Navigation Services allow Volunteers of America to step in, listen, and act as an advocate and liaison for some of the situations families often can't deal with by themselves.

"They have a lot of experience and gave good advice," says Joe, Jr., "and they were warm and human — not just clinical or businesslike. It was a caring environment, and all of a sudden I felt like I had real family team at my side. They laid out a spreadsheet of all the different homes they had looked into, with all the details, available services, payment plans, proximity to my home in Portland, and so forth. I don't know where else I could have turned to for this help — if anywhere! I really felt like there wasn't a void and that we made a good decision." JoAnne and her team also facilitated communications with various agencies and traveled with the family to tour housing options.

A New Home
Today, Joe's father has been moved to a comfortable new residence in nearby Falmouth that can take care of his needs efficiently and cost-effectively.

"I've been so glad about our ability to help people like Joe and his dad — and others like them," says JoAnne. "It's true — we have knowledge, resources, and experience, and we really care. That sets us apart."

"It has really made a difference not just for my dad, but for me, too," concludes Joe, Jr. "I can visit him easily and regularly — and enjoy him — and be confident that he's getting the right kinds of care. This has been a good thing."
"My view," says JoAnne with a smile, "is that we're all sort of traveling through life together — and it can be smoother sometimes, or sometimes more challenging. And when it become challenging, it's good to know that there's an organization out there like our Navigation Services team that can help guide you along the path."

The Navigation Services include a Navigation Specialist to educate, advise, and advocate on behalf of elders and their families — helping them save time and money by cutting through red tape and giving expert guidance. Services include needs assessment, developing long-term care options, assisting with application processes, facilitating communications with medical and social agencies, scheduling meetings, relocation services, referrals (to eldercare attorneys, financial planners, social workers, spiritual counselors, etc.), arranging for in-home care, liaison with long-distance family members, and more.
to learn more about Navigation Services, call 207-373-1140 x239 or email help@voanne.org